Okay, I gotta start by saying that it been a long time. The last thing I remember was trying to figure out how to rebase my pull requests on Kodi's repository and praying to pass my first GSoC evaluation. Well, as of now I have passed all the GSoC evaluations, received all my stipend and missed a great trip to Sofia, Bulgaria, yup missed it, but that's a story for next time.
Now I want to talk about the new thing I am getting into, CTFs. I always wanted to get my hands dirty with those CTF challenges and feel like a H4CK3Rand I finally did, two weeks ago I took part in picoCTFand it was a great experience for me.
Now I plan to do CTFs in my free time or maybe I'll find some free time to do CTFs ;)
About the CTF
Well, I was not able to compete for both the weeks because from 8 Oct to 13 Oct I had my sessional exams. But I think I did great in the first week, considering this was my first CTF, I was able to solve 57 questions out of 107, that's like 53% of the total.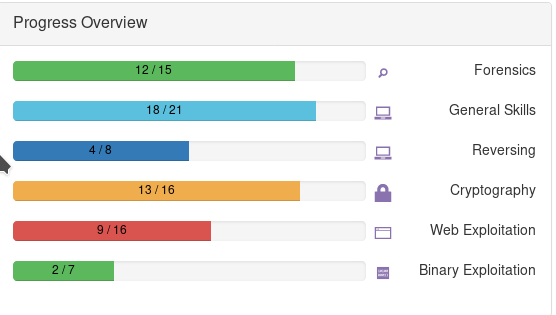 I had a score of 10510 and I was in the top 500, pretty good for the first CTF :)

Not just that I even wrote my own write-ups. You can read them here
What's next?
I have formed a team with my college buddy, ugtan. Together we are called The Dark knights. And our first CTF as a team is going to be Hitcon. After reading write-ups of previous year I realize I might have overdone it. Hitcon's problems are pretty advanced level but hey, that's how you learn new stuff right? We are just hoping to be able to solve at least 10 problems and that would be a big achievement for us.
And then next week(26 Oct - 28 Oct) we'll be taking part in P.W.N ctf. This CTF looks pretty good for beginners so I think we'll do good in this one.